페이지 정보

작성자
관리자
댓글
0건
조회
3,580회
작성일

21-05-31 11:24
본문
Digital Radiography Console Software
- The fastest pre processing & post processing
- Control with various DR model(universal, full, mobile, table, stand type and etc..)
- Various image handling(Rotation, Annotation, Masking, ROI)
- DICOM 3.0 Compatible
Product Information
feel-DRCS is the operation console system software integrated with various detectors or X-ray generator, based on FS-MLW (Faster Specialized Multi Layered Wavelet) technology.
feel-DRCS is the product developed for the operator, designed at the clinical hospital through many years of clinical tests, and finished by service engineers of former major DR makers.Therefore feel-DRCS is the best User interface DR operation console system that is easy and simple with various function.
feel-DRCS is the embedded software based on feel-TK enable to remove noise and various artifacts and much clearer body tissue.  The embedded calibration function makes it possible to set the basic calibration data (offset image and gain image) for all types of detector. 
feel-DRCS is distributed and being used at the clinical fields after verifying software on various detectors distributed worldwide. It is easy to use console system's software just by changing the type of the detector which DR makers want.  Integrating the X-ray's generator operation panel, the total DR system inside the software makes it possible to control  APR, AEC, Ready/Exposure with ease.
Compatiable Panel Company : TRIXELL, VAREX, CETD(TOSHIBA), DRTECH, RAYENCE, VIEWORKS, PIXXGEN, IRAY, CARERAY, PZMEDICAL, CANON, RADISSEN, H&Abyz, etc
feel-DRCS is integrated with various X-ray generators, supports APR function, and provides all-in-one DR
product which enables to  work as existing operation panel with just one console software.
X-Ray Generator : CPI, SEDECAL, EMD, DRGEM, POSKOM, ECORAY, TECHNIX, SMAM, SPELLMAN, etc
Other Device : DAP, COLLIMATOR, MACHINE etc.
feel-DRCS is the operation/management system for contents of whole digital radiography system. In addition, imfoU supports you  also DR consulting.  imfoU is Implement For You. 
if you join with imfou, you can get a chance to choose one of detectors as you want. Nowadays, Detector is an optional item when you are with feel-DRCS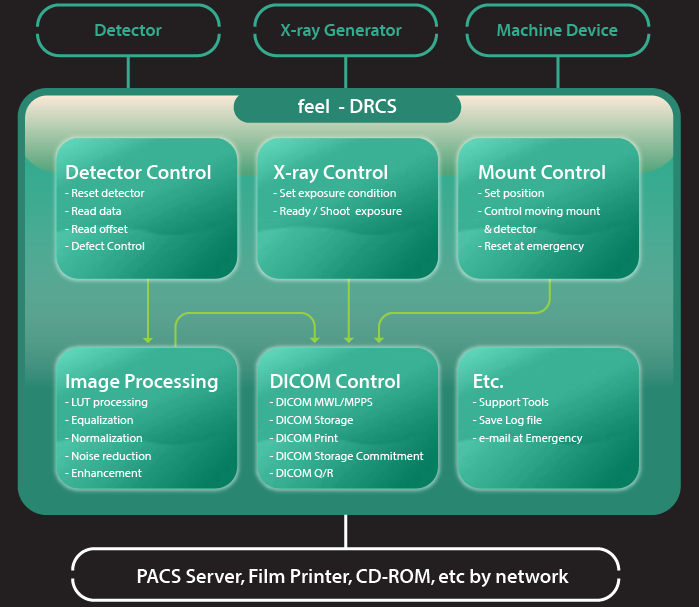 Sending image to PACS and print to Laser Film Printer or CD
Various image handling(Rotation, Annotation, Masking, ROI)
Pre-Configuration for various parameter(exposure condition, ROI, patient position and etc.)
Modify and renew a patient information for completed exam
Search for patient ID, Study, Exam Series and etc..
DICOM C-Store SCU
DICOM Modality Worklist SCU, automatic or manual of exam infomation
DICOM DIR(CDR) 
DICOM Print SCU
DICOM MPPS(Modality Performed Procedure Step) SCU - option
DICOM Storage Commitment SCU-option
DICOM Query / Retrieve option 
The fastest pre processing & post processing 
Control with various DR model(universal, full, mobile, table, stand type and etc..)
Provide each user customizing 
for HUMAN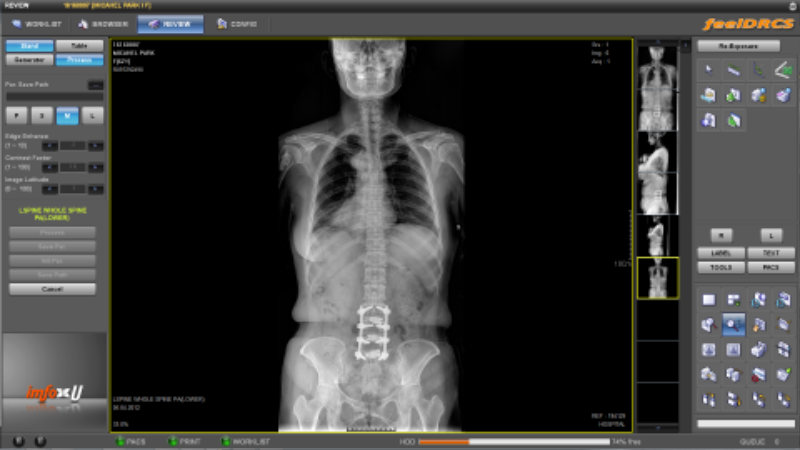 for Mammography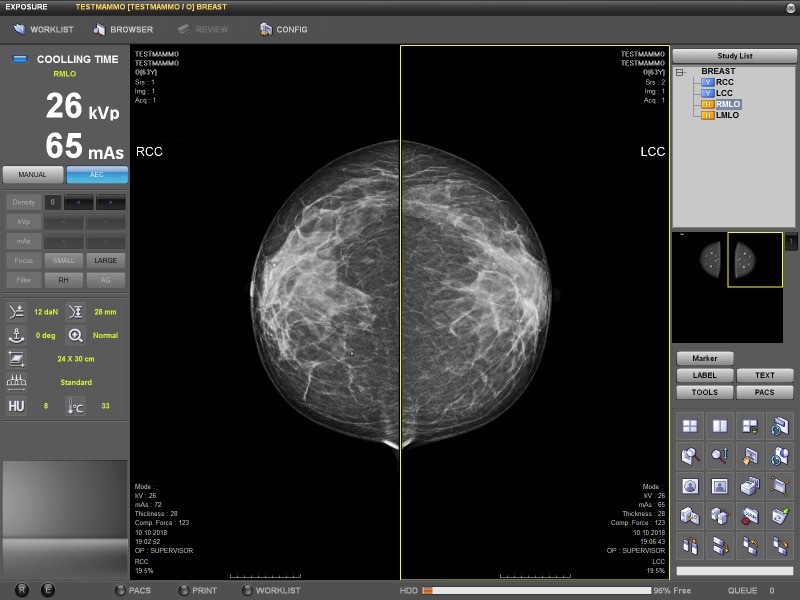 Specifications
  Technology 
- feel-DRCS is based on the Faster Specialized Multi Layered Wavelet (FS-MLW Algorithm) technology.  
  And feel-DRCS display images with best speed. 
- feel-DRCS is optimized for best quality and best speed without introducing any artifact by FS-MLW algorithm. 
  Consists 
- feel-TK : Image Processing Engine
- Main Console Viewer(Worklist/Browser/Exposure/Review)
- sub VIEW / feel VIEW - option
- DICOM
  DICOM Storage SCU / Modality Worklist SCU / Print SCU
  DICOM Query/Retrieve - option
  DICOM Modality Performed Procedure Service SCU - option
  DICOM Storage Commitment SCU - option
- GP-Tool :  Get parameter Tool 
  Processing Adjustments 
- The image processing is depend on FS-MLW parameter.
- This parameter is optimized for user satisfaction 
- You can select and match parameters for each study or exam.
- The imfoU's professional medical imaging specialist provide support for  fine tuning these parameters. 
  Memory Usage 
- Dependent on image size
  Licensing
- USB Dongle Key/copy for feel-DRCS
  Functions
  Control of DICOM
- Available DICOM Sending Multi PACS Server at same time
- Auto or manual DICOM Sending
- PatientCD with image viewer or export image file(JPG,BMP,PNG)
  Control of X-ray system
- Set X-ray exposure condition for generator
- Set study position for Bucky and tube
- Control ready & Shoot X-ray
  Control of X-Ray detector
- Ready & Read raw data from detector
- Calibration offset vale
- Monitoring interface to detector
  Local information DB 
- Study information store and management
- Image store and management
- Control & modify & searching DB
  Pre-Processing
- Fixed Enhancement LUT(Lookup Table)
- Auto-Analysis Flexible LUT(Lookup Table)
- Various Contrast Equalization
- Auto Windowing, Noise Reduction, Background filtering
  Post-Processing
- Contrast & Edge enhancement, Latitude enhancement
- Smoothing, Image Frequency filter
  Print Compose
- Available Regular Multi Format and irregular Multi Format
- Available Various Print Preview(Arrow, Length, Angle, Text, Rotation, etc)
- Available DICOM Print and Paper Print
  Etc.
- e-mail and store log at emergency 
- Various image handling(Rotation, Annotation, Masking, ROI)
- Measurement for Animal(VHS, TTA, TPA, Nerberh angle)
- Add acquisition images, Re acquisition images.
- Merge or separate study or image
- Backup images to external HDD with Image viewer
  System Requirements
- Processor : Intel i5 6th generation Processor or later
- RAM : At least 4GB RAM (Better 8GB)
- HDD : At least 40GB hard disk(if possible 7,200 RPM or above), in addition to the required archive capacit
  (Recommend : 1st HDD : System and   Software,  2 HDD : Image Data Storage)
- Network Card : 1Gbps Ethernet Network Card 2 ea or above
- Video graphic adapter : Resolution of at least 1280 X 1024 pixels in True Color mode(Recommend : 1920 X 1080)
- Monitor : 24 inch Full HD recommend but support 4:3 and 16:10(HD).
- Operating System : Windows 7/8.1/10 professional  32bit/64bit
  Application Department
  Human : General, Orthopedic, Chiropractic, Podiatry, Mammography
  VET : Small Animal, Equine.
  NDT : EODT, NDT